What is Question.direct?
Question.direct is a platform that hosts interactive sessions between speakers and audience (at conferences, meetings, courses, debates, presentations, round tables, seminars, colloquia, congresses, conventions, gatherings, events...)
Question.direct is designed for speakers, presenters, speakers, session chairs and organizers who wish to:
Moderate audience's questions (collect, group, select, prioritize, save, then display and address them live)
Poll their audience in real time (multiple choice question, votes, quotes, words clouds)
Session participants access the platform at question.direct
The speakers or moderators of the sessions access the platform at moderator.direct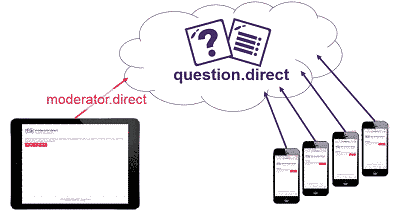 How to manage a session at Question.direct ?
You just need to be a registered user at Question.direct, and:
have a personal subscription to create your own sessions
or to have been invited to moderate a session by tis creator
Getting started with 5 minutes video:
Give it a try or get more information?
Try it yourself, we will be happy to help you.
You have a project? Tell us in a few words what you want to make interactive, we will provide you with a trial account.
Personal subscriptions include:
unlimited questions per session.

unlimited polls per session.
separate results display in the room via browser
Pricing is based on duration (month or year) for unlimited usage, or on "participations" (participant during one session) more information
To create your account and subscribe :
Advanced services
Municipalities, universities, companies, associations or public organizations, communication agencies : we provide customized interactive platforms with advanced features: more information
Private sessions: authenticated access (login / password). These sessions include participant list management with automatic registration
Assembly votes on the basis "1 participant = 1 vote", with and proxies management feature.
Low latency streaming: your platform is associated with a low latency streamer (less than 1 second), that allows hybrid audiences sessions (simultaneously onsite and online)
interactivity services for events (on site or remotely)
Please contact us, we will be happy to assist you: